2nd Century Capital Campaign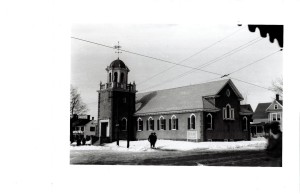 This Old Church
The Sanford Unitarian Universalist Church building has stood on the busiest corner in the center of Sanford since it's completion in November 1918, just before the armistice ending WW I.
This winter, we've shored up the trusses supporting the roof to strengthen it for another century of service. Now, we're insulating the top and sides of the building. We'll paint the exterior trim in 2016 and attend to the church tower.
Thanks to all of you members and friends who have generously given small or large gifts to begin generating solar energy here as well as to get these other "Green '15" projects off the ground.
It's all good—except we need help from everyone to complete these projects.
If you're a member or friend of the church who has not yet taken the opportunity to support this important work, now would be the ideal time to do it. Please give what you can to secure our sturdy old church building for its second century of service.
Gifts will be welcomed at: 2nd Century Fund, Sanford UU Church, 5 Lebanon St., Sanford ME 04073.
We appreciate your support for our spiritual community's home on this corner.
2nd Century Capital Fund Committee
Lee Burnett, David Agan, Howard Dupee, Reverend Sue Gabrielson
Update from the SUUC 2nd Century Capital Fund Committee
January 24, 2016
Capital work completed in 2015:
installation of solar panels, heat pumps, and electric system
Capital work completed in 2016 (to date):
Installation of trusses to support Sanctuary roof, insulation of Sanctuary cap, replacement of some early 20th Century electrical wiring
Capital work ahead in 2016:
Insulate Sanctuary walls, paint and repair exterior trim, review and attend to church tower assessment
Gifts received in 2015:
$46,033
(In addition- a $28,000 investment in solar electric system was made)
Gifts and anticipated funds in 2016 (to date):
$6,900
(includes $1000 from SUUC operating budget, $4000 to come from Steeples Project of Maine Community Foundation, and $1900 in gifts and gift commitments)
During 2016, we will ask members of the congregation to help review Capital improvement priorities and assist in fundraising.