Rev. Steve Cook
Minister
Department: Ministry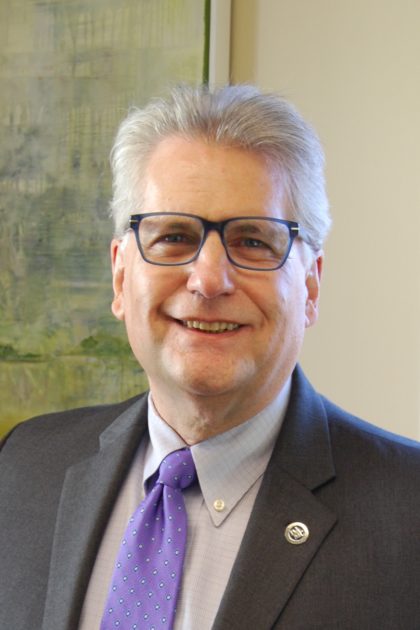 Our new interim minister is the Reverend Stephen Cook.  "Reverend Steve" is an experienced parish minister, who has served a nine-year, full-time settlement and five interim ministries.  He is just finishing a three-year interim at the First Parish Universalist of Stoughton, Massachusetts, where in addition to the usual pastoral duties, he led the church in discernment to determine whether they would forge a less-than-full time/collaborative arrangement with another congregation, or seek a full-time settlement.  (They chose the latter and have just called their very first female minister.)
Originally from New York, Reverend Steve has deep connections with Maine.  Trained at Bangor Theological Seminary, he spent years as a lay leader with our churches in Bangor, Auburn, and the Northeast District.  While living in Auburn, he built furniture for Thomas Moser Cabinetmakers.  He was called to the interim ministry of A2U2 in 1994-1995, and since served churches in Hudson, North Hampton, Wellesley, Scituate and Stoughton, MA.
Reverend Steve has been married for many years to Eileen Kelly, who was active in the Portland chapter of Amnesty International and other social justice initiatives, often under the auspices of A2U2.  They have two adult sons, one living in Buffalo, NY and the other in Salem, MA.  Owning a home in Quincy, Massachusetts, they will not be relocating; Reverend Steve will be "stretch commuting" on a regular schedule to Saco/Biddeford and Sanford.  He is looking forward to helping our two churches create a forward-looking collaboration, exploring new ways to carry forth an historic witness.  Smaller UU Churches throughout the Association, also facing similar challenges, may well be able to learn from what we do.
You can expect to see him in the pulpit twice each month during the regular church year.  He will also be available for weddings, memorials and other ministerial services.