The Corner Cupboard
For a complete history of our Corner Cupboard, please read  SUUC Pre-Centennial History Update #1 by our Church Historian, Helen Kane. In addition, please see SUUC Pre-Centennial History Update #2
History
During our first week of operation in February of 2006, we served 30 families.  The cost of this operation has increased, bringing our costs of providing items  such as diapers, laundry detergent and various cleaning and health products to approximately $800.00 – $1,000.00 per month. We now assist over 150 – 200 families monthly. Since we began operation, we have given away thousands of bottles of laundry detergent and tubes of toothpaste.  We are committed to shopping at local area merchants and do so each month.
Read more about our Corner Cupboard at Brochure for CC 2018
On November 17, 2015,  Jo Dill was honored by the United Way of York County (UWYC) with its 2015 Spirit of Service award for her nearly 10 years of service to SUUC's Corner Cupboard.  Jo began as a member of the original CC team, the Tenacious Ten.  She was cited for her work recruiting, promoting, stocking shelves, distributing, setting up and cleaning up, as well as for her integrity and dedication.  The President of the Kennebunk Savings Bank who presented Jo the award also recognized her for treating her clients with dignity and respect.  The award came with a $500 gift from UWYC to the Corner Cupboard and the CC Team thanks Jo and KSB for this gift.  Just after the ceremony at Jonathan's in Ogunquit, Judi Reis was heard to say: "Jo Dill rocks!" She sure does!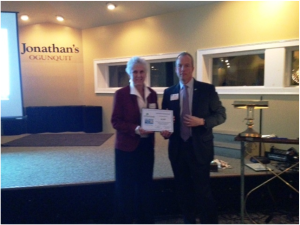 Click here to read news about our non-food pantry.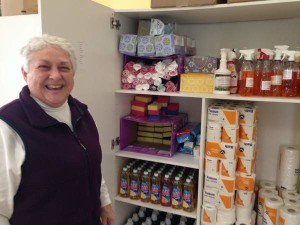 The Corner Cupboard is a non-food item pantry for those in need hosted at the Sanford Unitarian Universalist Church.  Its mission is to assist members of the community by providing non-food essentials in a dignified and non-discriminatory manner.
The Corner Cupboard is open the third Saturday of every month from 10:00-2:00. Beginning April 2018, the new operating hours will be 10:00-1:30. You do not need to be a resident of Sanford to receive help from this pantry.
The Corner Cupboard is dedicated to honoring the integrity and worth of all individuals and it does not discriminate based on people's needs.
The Corner Cupboard offers non-food items including personal care, paper, cleaning, household, baby and pet food products.   We also have gently used clothing and household items.
Volunteers are always needed and welcome to help us on the Saturdays we are open. Please call the office at 324.3191.
This project is funded in part by the Fund for Unitarian Universalist Social Responsibility and the United Way of York County.